Trimac Named a 2023 Top Company for Women to Work for in Transportation
Published on October 31, 2023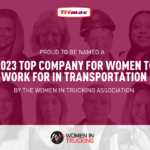 Calgary, AB—Trimac was honoured as a 2023 Top Company for Women to Work for in Transportation by the Women in Trucking Association (WIT). The achievement underscores its unwavering commitment to fostering gender diversity, empowering women and providing exceptional opportunities for growth within the transportation industry.

"We are truly honoured to receive the prestigious recognition as a 2023 Top Company for Women to Work for in Transportation. This accolade celebrates our achievements and reinforces our dedication to supporting women in the trucking industry," said Rhonda Leason, VP of People & Culture at Trimac. "Together, we will continue to pave the way for a more inclusive and thriving transportation sector."
This accolade marks the fifth consecutive year that Trimac has been named with this honour, having won the award since its inception in 2018. Trimac will be acknowledged at the upcoming WIT Accelerate Conference & Expo in Dallas, Texas on Nov. 5, 2023, and is set to accept the award from WIT's new President & CEO, Jennifer Hendrick.

The award's evaluation process involved an industry-wide vote, where over 27,000 industry professionals, including executive management, operations, human resources and talent management executives and professional drivers, participated. Trimac congratulates the other recognized companies, and the women who made Trimac what it is today.

About Trimac
Trimac Transportation was founded in 1945 as a small family trucking company based in Saskatchewan and is now one of the safest and most efficient transportation service companies in North America. With over 100 branches and a wide range of experience and services, Trimac is uniquely qualified to provide high-quality bulk shipping solutions. Trimac was built on the foundation of service with safety, and it is proud to provide an essential service and ensure our supply chain remains intact.

About the Women in Trucking Association
The Women in Trucking Association is a non-profit organization dedicated to promoting the employment and advancement of women in the trucking industry. Founded in 2007 by Ellen Voie, WIT focuses on addressing the gender disparity in the transportation and logistics sector and focuses on providing resources, support and advocacy.