Trimac Elevates Workplace Experience with New Calgary Headquarters
Published on September 21, 2023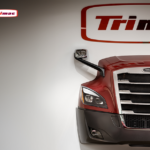 Calgary, AB—Trimac recently unveiled its cutting-edge headquarters in the heart of Calgary, Alberta, Canada, marking a significant milestone for the company. Collaborating with renowned architectural firm Kasian, Trimac transformed its corporate head office workspace into a dynamic, activity-based environment aligned with its hybrid workplace model for corporate employees. Spanning nearly 15,000 sq ft, the space is strategically designed to foster innovation, nurture collaborative efforts and enhance the overall well-being of its corporate administrative staff.

The new office consolidated Trimac's operations from a former three-floor office unit in the northeastern quarter of the city to a single-floor, vibrant space downtown. The workspace provides proximity to Calgary's active downtown core and Trimac's truckline and National Tank Services branch located in the SE. Located on the corner of 11th Ave SW and 2nd St SW, the headquarters' design and excellent public transit links create an environment that mirrors Trimac's distinct culture and heritage while supporting the company's commitment to sustainability and innovation.

"Our new headquarters provides a focal point for our Calgary-based corporate employees to meet, collaborate and deliver effective transportation solutions," said Marc Gravel, Director Facilities & Real Estate at Trimac. "As one of North America's safest and most innovative transportation companies, we proudly call Calgary our home and look forward to our

The new office features banquette and tiered seating, small tables for informal work and huddle rooms for technology-intensive tasks—each equipped with built-in power and data access points. The resulting design integrates Trimac's legacy with modern workplace requirements and features the following key details: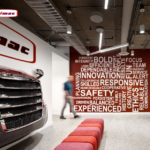 Word Wall: Reflecting the sentiments of Trimac's team members, an engaging word wall graces the office's front entrance. This compelling narrative is also woven throughout the office, underscoring the impact of Trimac's workforce in shaping its legacy.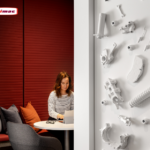 The Truck Front + Truck Parts Wall: Bridging the gap between office-based staff and those on the road, an imposing front-end of a company fleet Freightliner truck painted in iconic Trimac maroon welcomes all entrants. Adjacent to the primary collaborative space, authentic Trimac truck parts are integrated into the design, seamlessly merging the company's essence with the workspace.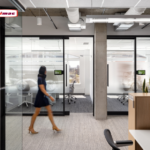 Frosted Vinyl Decals: Three distinct frosted vinyl decals wrap around the office space and showcase the historical evolution of Trimac's fleet, emphasize safety commitments and pay tribute to the company's storied history and the founding McCaig family legacy.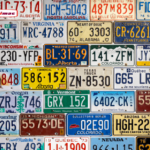 License Plate Wall: A poignant homage to Trimac's extensive workforce across North America, an art installation features Canadian and US license plates from the states and provinces in which Trimac operates.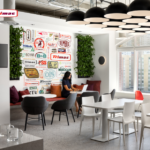 Logo Wall: An ode to Trimac's presence in North America, a dedicated wall in the café catalogs the constellation of some of the companies, both past and present, that collectively form Trimac today.

About Trimac
Trimac Transportation was founded in 1945 as a small family trucking company based in Saskatchewan and is now one of the largest transportation service companies in North America. With over 100 branches and a wide range of experience and services, Trimac is uniquely qualified to provide high-quality bulk shipping solutions. Trimac was built on the foundation of service with safety, and it is proud to provide an essential service and ensure our supply chain remains intact.

About Kasian
Kasian is a renowned architectural and interior design firm known for its innovative and transformative design solutions. With offices in Canada and the United States, Kasian has established itself as a leader in creating invigorating spaces that cater to various industries.