Trimac Earns Industry Award for Training and Development Excellence from Trucking HR Canada
Published on October 20, 2023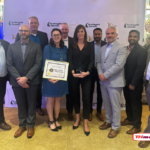 Calgary, AB— Trimac was awarded the prestigious Achievement of Excellence Award for Training and Skills Development by Trucking HR Canada. The award commemorates Trimac's dedication to supporting its employees and creating a culture of continuous learning, offering career growth opportunities and implementing performance management and training programs.

"We're incredibly honoured to have received the Achievement of Excellence award for Training and Development this year, especially as we mark our fifth year in the program," said Rhonda Leason, VP People & Culture at Trimac. "This recognition is a testament to our unwavering commitment to nurturing talent, fostering growth, and pushing the boundaries of excellence in our industry. We take pride in our team's dedication and innovation in creating industry-class training and development programs."

The Top Fleet Employer Program is a national initiative that recognizes the importance of effective human resources (HR) policies and practices in the trucking and logistics industry. Trimac's enrollment in the program signifies its commitment to human resources standards for excellence and promoting positive change in the sector.

This is Trimac's second consecutive win since entering the Top Fleet Employer Program in 2018. In 2022, Trimac was awarded the Achievement of Excellence for HR Innovator Award for its creative, forward-thinking HR initiatives.

About Trimac
Trimac Transportation was founded in 1945 as a small family trucking company based in Saskatchewan and is now one of the safest and most efficient transportation service companies in North America. With over 100 branches and a wide range of experience and services, Trimac is uniquely qualified to provide high-quality bulk shipping solutions. Trimac was built on the foundation of service with safety, and it is proud to provide an essential service and ensure our supply chain remains intact.

About Trucking HR Canada
Trucking HR Canada is a non-profit organization focused on HR and workforce development within the Canadian trucking and logistics industry. In 2014, it launched its annual Top Fleet Employer Program, assessing the scope of an employer's formal HR policies and programs. Recognized Top Fleet Employers endure a rigorous assessment process that evaluates their HR policies, employee engagement strategies and commitment to diversity and inclusion.