Trimac's VP Legal and Corporate Secretary named to Hockey Canada's board of directors
Published on January 02, 2023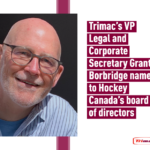 Congratulations go out to Grant Borbridge, Trimac's VP Legal and Corporate Secretary, who has been named a new member of the board of directors for the national governing body for hockey in the country, Hockey Canada.

The federation's 13 provincial and territorial bodies had the choice to accept or reject an entirely new board of nine members, which included five women and four men, put forward by an independent nominating committee.

Joining Grant on the board are its Chair, Hon. Hugh Fraser, a retired Ontario Court of Justice judge. Fraser was born in Kingston, Jamaica, raised in Kingston, Ont., and competed for Canada at the 1976 Summer Olympic Games in Montreal. He served on the Canadian Human Rights Tribunal, is a commissioner with Athletics Canada, is one of 15 adjudicators on the NCAA's independent resolution panel for complex cases, and has served on the board of the Canadian Centre for Ethics in Sport

Also joining are Cassie Campbell-Pascall, a former star Canadian women's national team member, is currently a hockey commentator and broadcaster for Sportsnet and ESPN, Julie Duranceau, a Saint-Bruno de Montarville, Que., lawyer who specializes in harassment cases and is a settlement facilitator for the Sport Dispute Resolution Center of Canada; David Evans, a London, Ont., chartered accountant and advisor who has also served on the board of the Sheldon Kennedy Child Advocacy Centre; Marni Fullerton, an Ottawa executive with three decades of leadership experience as a senior advisor and CEO, as well as time spent as producer and reporter with the CBC; Jonathan F. Goldbloom, a Montreal communications executive who most notably helped the Royal Montreal Golf Club secure the Presidents Cup and provided crisis management for Equestrian Canada; Marian Jacko, of Wiikwemkoong First Nation, Ont., who is the assistant deputy attorney general for the Indigenous Justice Division of the Ontario Ministry of the Attorney General; and Andrea Poole of Ottawa, an accountant who specializes in finance, accounting, auditing, compliance and business recovery.

Grant has been involved with hockey associations for over 20 years. As his three children grew up playing the sport, he became involved with hockey administration in Calgary, including serving on the board with the Calgary Royals AAA and AA hockey programs, Girls Hockey Calgary Association, and the Glenlake Minor Hockey Club.

"I do it because I love the game," said Grant. "It's important for kids and as Canadians that we rally around hockey."

Grant also has board experience working as a member of the Calgary Women's Emergency Shelter, Fort Calgary, and the Canadian Bar Association's (CBA) Canadian Corporate Counsel Association.

With the new slate of leadership at Hockey Canada, Trimac and Canadians from coast to coast are eager for the organization to improve safety across the sport on and off the ice.