Trimac hosts 2023 Innovation Summit in Silicon Valley, California
Published on June 06, 2023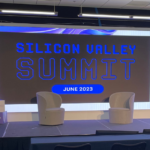 With technology accelerating quicker than anyone could have imagined, engaging with our customers and aligning with the right partners are necessary for Trimac to stay ahead in an evolving industry.

At this year's Innovation Summit hosted in Silicon Valley, California, June 6 to 8, discussion on how to solve challenges in our industry generated ideas surrounding driver retention and optimization, network efficiency, and standardized information sharing platforms.

The Innovation Summit was created in 2018 as a commitment to our core clients that Trimac will stay engaged with our customers' journeys and gain the internal skills, general knowledge, and ecosystem to survive undeniable changes in the technology space.  

Trimac President and CEO Matt Faure, VP Information Technology Ross Ballendine, and Director of Sales Mackenzie Johnston hosted the summit. Invited to participate were Lafarge Canada Inc. Director of Logistics Chuck Boa, Ingredion Incorporated Director of Logistics (North America) Matt Wapiennik, Teck Metals Ltd Fertilizer & Industrial Products Manager Rachel Moore, UFA Senior Director Petroleum Operations Doug Charriere, and Xpress Senior VP of Product & Technology Mohan Krishnamurthy. Mohan was also the guest speaker at Trimac's Innovation workshop.

"We started by engaging with the technology space, then gathered as much information as we could around what our customers wanted, built a strategy to address our shortcomings and assigned a team dedicated to transformation," wrote Trimac CRO Ryan Collinge in a message to attendees. "We felt ready to take on the change and be on the leading edge of the transportation industry in terms of innovation."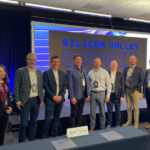 This year, startup pitch presentations were made by:

Figure AI  
Figure AI brings together the dexterity of the human form and cutting-edge AI to go beyond single-function robots and lend support across manufacturing, logistics, warehousing, and retail.

U Power
U Power is an intelligent electric vehicle company that builds cars through standardized UP super chassis and to achieve Car as a Service.

Navflex
Navflex is automating loading and unloading operations in a simple, quick, and affordable manner through transforming material handling equipment into intelligent Mobile Robots optimized for handling challenges of the loading ramp.

Arkestro, Persue, Infinity Loop, and Chainparency were some of the other startups in attendance.

Guests attended pitches from start-ups in the logistics space, facilitated by Plug and Play, one of the largest accelerators in the world. This year the event showcased more than 145 batch startups from 16 industry-focused innovation programs: Agtech, Animal Health, Brand and Retail, Crypto and Digital Assets, Energy, Enterprise Tech, Fintech, Food and Beverage, Health, Insurtech, IoT, and others. 

To cap off the summit, participants took part in Trimac's Innovation Workshop, which focused on strategic innovation issues anchored in day-to-day business challenges.
​​​​​​​

About Trimac

Trimac Transportation was founded in 1945 as a small family trucking company based in Saskatchewan and is now one of the largest transportation service companies in North America. With over 140 branches and a wide range of experience and services—we are uniquely qualified to provide high-quality bulk shipping solutions. Trimac was built on the foundation of service with safety, and we are proud to provide an essential service and ensure our supply chain remains intact.