Calgary National Tank Services team prioritizes developing its people
Published on March 07, 2023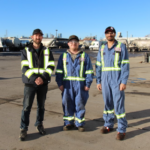 Three team members based out of Calgary's National Tank Services branch are developing their skills and as a result have moved up in the company.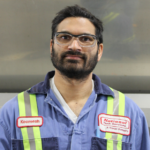 Koomesh Woodun first joined Trimac four years ago as an Apprentice Mechanic in Regina, Saskatchewan. Since then, he moved his family and transferred to the Ogden Road branch in Calgary, and began working on achieving his Blue Seal Certificate, which is an industry-recognized certification offered by Alberta Apprenticeship and Industry Training's (AIT) Achievement in Business Competencies (Blue Seal) Program. It is designed to develop business skills and support personal and professional career goals. He is now a certified mechanic journeyperson.

Certified tradespeople must log 150 business training hours to earn the Blue Seal Certificate.

"I am interested in moving up when an opportunity arises and learning the business," said Woodun. "I want to stay with the company I am building knowledge on."

Beginning December 2020, Woodun is the Night Shift Lead Hand at the Calgary NTS branch.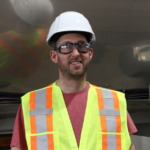 Jason Vaniersel, Calgary NTS' Parts and Service Coordinator, started with Trimac in 2017 as a Level 3 Washrack Technician. Over the years he moved up to be Washrack Lead Hand, before an opening allowed him to move onto the role of Parts and Service Coordinator.

"It's nice to be in a company that gives you the option to move," Vaniersel said.

Currently Vaniersel is working on earning his Red Seal endorsement from Southern Alberta Institute of Technology (SAIT).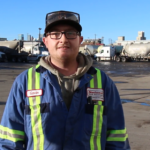 Lastly, Apprentice Mechanic Gavin McCaw joined Trimac a year ago as a Washrack Technician. He wwasn't in that role long, though, as he is working towards becoming a Heavy Duty Mechanic. Right now, he's studying at SAIT to earn his Heavy Equipment Technician ticket that will make him an expert in maintaining, repairing and overhauling heavy vehicles, transport trailers, heavy-duty off-road vehicles and industrial equipment.

Of the 1,500 required apprentice hours, he's about two-thirds done.

"I chose to do my apprenticeship at Trimac because they are willing to give me the opportunity to actually do it, one of the few companies who would take on a guy with no experience to train me up and go to school," said McCaw. "Everybody here is super knowledgeable and I've learned a lot in the year I've been in the shop."
About Trimac 
Trimac Transportation began 77 years ago as a small family trucking company based in Saskatchewan and is now one of the largest transportation service companies in North America. With over 140 branches and a wide range of experience and services—we are uniquely qualified to provide high-quality bulk shipping solutions. Trimac was built on the foundation of service with safety, and we are proud to provide an essential service and ensure our supply chain remains intact.