Trimac's Senior Legal Counsel Pui Hong addresses nuclear verdicts at IADC's 2023 Annual Meeting
Publié le 01 August 2023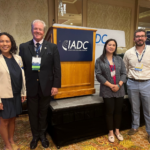 Calgary, AB—Trimac's Senior Legal Counsel & Privacy Officer, Pui Hong, was invited to be a part of the International Association of Defense Counsel's (IADC) esteemed panel during their 2023 Annual General Meeting held in Waimea, Hawaii, recently.

Hong, who has been serving on the Board of the Canadian Transport Lawyers Association since 2021 and as the Director of Communication since October 2022, represented Trimac and provided valuable insights from a Canadian perspective on the growing issue of nuclear verdicts.

"The Conference provided legal professionals an arena to exchange ideas and discuss prevalent and novel issues within their practice area," said Hong. "It was a pleasure and an honour to share with a group of esteemed practitioners from around the world my knowledge of the Canadian legal system and the issues Trimac faces in conducting business in the U.S."

With nuclear verdicts on the rise, the panel titled, How to Cool the Temperature to Prevent Nuclear Verdicts, explored 'explosion points', particularly with an international focus, and highlighted the Canadian and Mexican legal systems in limiting damage awards, shared impacts on global insurance and excess policies and trends.

The panelists also discussed various insurance mechanisms that may be used to reduce risk with the hopes of subduing nuclear verdicts.
Trimac is proud to have Hong's representation on these crucial matters and believes that her expertise and contributions are bound to have a significant impact in addressing nuclear verdicts on an international level.

About Trimac
Trimac Transportation was founded in 1945 as a small family trucking company based in Saskatchewan and is now one of the largest transportation service companies in North America. With over 140 branches and a wide range of experience and services—we are uniquely qualified to provide high-quality bulk shipping solutions. Trimac was built on the foundation of service with safety, and we are proud to provide an essential service and ensure our supply chain remains intact.

About IADC 
The International Association of Defense Counsel (IADC) has been serving a distinguished membership of corporate and insurance defense attorneys and insurance executives since 1920.  Its activities benefit the approximately 2,500 invitation-only, peer reviewed members and their clients, as well as the civil justice system and the legal profession. Moreover, the IADC takes a leadership role in many areas of legal reform and professional development.