Trimac Releases 2022 Environmental, Social and Governance Report
Publié le 24 August 2023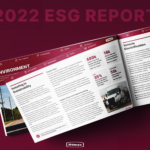 Calgary, AB—Today, Trimac released its 2022 Environmental, Social and Governance (ESG) Report, marking a significant step forward in its commitment to upholding and accelerating sustainable practices and responsible business operations. The report provides a comprehensive overview of Trimac's performance in critical ESG areas—highlighting efforts to create more sustainable transportation solutions, decrease fuel and water consumption, develop a more diverse and equitable workforce and invest in the causes and communities it cares about.

"Trimac recognizes the responsibility we share with our customers and are dedicated to being a partner and strategic choice in achieving joint ESG and supply chain goals," said Trimac's President & CEO, Matt Faure. "By promoting safety, sustainability, innovation, well-being, diversity, and corporate governance, we contribute to a greener planet and strive to inspire positive change across our industry and beyond."

"Due to the nature of our work, Trimac is dedicated to maintaining the highest standards of ESG principles within our operations," said Rhonda Leason, VP, People & Culture at Trimac.  "Through our initiatives, we aim to do more than operate responsibly and mitigate risk; we want to create value for those we serve by safely delivering products that improve people's lives."

Key highlights from the report include:

Capital Expenditures: Trimac has invested $217 million CAD in fleet and system upgrades over the past five years to optimize fuel consumption, improve safety and help identify areas for improvement.

Reduced Fuel Consumption: In 2022, Trimac has saved approximately 489,000 gal (1.8 million L) of fuel for every 100 million miles driven compared to 2019 levels.

Alternative Fuel Initiatives: Trimac has been actively involved in seven alternative vehicle initiatives to enhance the accessibility and implementation of alternatively fueled vehicles in the transportation industry.

Reduced DOT and LTI Frequencies: Trimac achieved record performance in both Department of Transportation Reported Incidents and Lost Time Injury frequencies in 2022 by an average of 17% combined.

Creating a Diverse Workforce: In 2022,Trimac achieved an 18% increase in visible minorities across its entire workforce, a 14% increase of visible minorities in managerial roles and an 18% increase in minority drivers.

Giving Back to Communities: Trimac commits nearly $300,000 CAD annually to various charities and employee-supported philanthropic programs. 

The year 2022 was a remarkable one for Trimac, both operationally and in the acceleration of its ESG goals. To download and read the full report, click here. For additional information regarding Trimac's sustainability initiatives and commitments, visit Trimac.com/sustainability.

About Trimac 
Trimac Transportation was founded in 1945 as a small family trucking company based in Saskatchewan and is now one of the largest transportation service companies in North America. With over 100 branches and a wide range of experience and services, Trimac is uniquely qualified to provide high-quality bulk shipping solutions. Trimac was built on the foundation of service with safety, and it is proud to provide an essential service and ensure our supply chain remains intact.