Trimac receives the American Trucking Associations' 2022 Diversity, Equity, and Inclusion Change Leader Award
Publié le 23 October 2022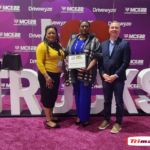 We are proud to announce that Trimac received the American Trucking Associations' (ATA) 2022 Diversity Equity and Inclusion Change Leader Award at ATA's recent Management Conference and Exhibition in San Diego, California. 

The ATA Diversity Equity and Inclusion Change Leader Award recognizes the commitment to a culture of acceptance and belonging for employees. It highlights organizations that challenge others to be bold and act as a change leader in our industry.  

"We're constantly learning as an organization and as individuals about diversity and inclusion," said Matt Faure, Trimac President & CEO. "It is important to take a step back and reflect on the progress we have made. And this award gives us the opportunity to do that."  

Faure was joined by Trimac Diversity, Inclusion, Equity & Belonging Council (DIEB) co-chairs Sondra Freeman and Amelia Tellis to accept the award on behalf of the company on Oct. 23, 2022. 

In 2020, Trimac founded its DIEB Council to spearhead educational and social activities that promote Trimac as a welcoming place for all. Many of Trimac's DIEB triumphs can be attributed to its growing diverse workforce, who feel safe bringing their whole selves to work. Trimac's DIEB Council consists of employees across North America who work together to equip the organization with effective and inclusive policies.   

At Trimac we understand that upholding a commitment to diverse, equitable, and inclusive workplaces is an intentional journey that requires hard work. And we will continue to uphold Trimac's values as we continue to grow and adapt towards an inclusive future.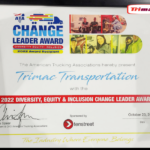 About Trimac 
Trimac Transportation began 77 years ago as a small family trucking company based in Saskatchewan and is now one of the largest transportation service companies in North America. With over 140 branches and a wide range of experience and services—we are uniquely qualified to provide high-quality bulk shipping solutions. Trimac was built on the foundation of service with safety, and we are proud to provide an essential service and ensure our supply chain remains intact.