Trimac first in Canada to install Gröninger cleaning system
Publié le 02 June 2021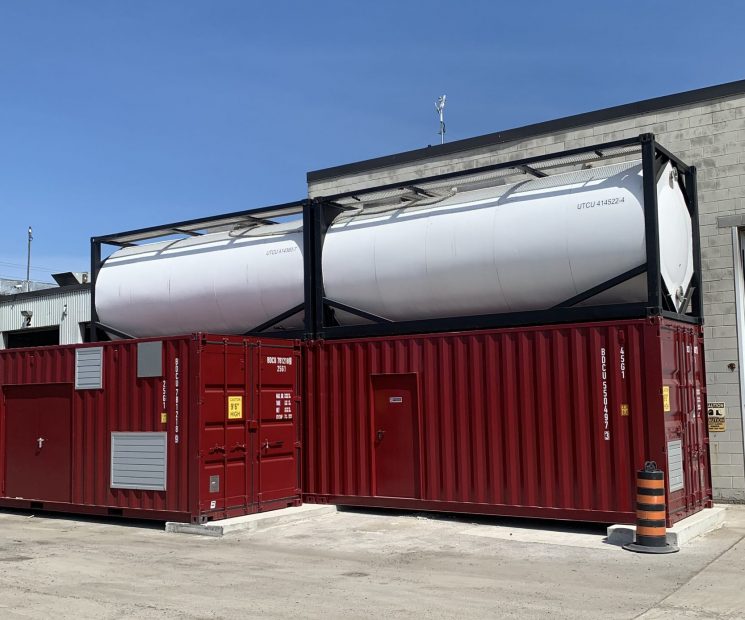 Trimac is the proud owner of the first Gröninger high-pressure, low-volume tank wash technology in Canada. Already widespread internationally, the Rotterdam-based supplier's automated systems boast faster, more consistent cleans, and will be a major improvement to NTS's service offering. The first wash using the system is scheduled for the end of June/early July.

The cleaning system is being installed now at the Mississauga NTS facility as a pilot project. The high-tech system boasts it can clean tanks more thoroughly, consistently, and efficiently than conventional cleaning systems, while also saving users money and taking half the time of a standard clean. The pilot project in Mississauga will put the system to the test and determine if the investment is worthwhile to span to other NTS locations across North America.

"This is like moving from a garden hose to a pressure washer," said Marc Gravel, Director Facilities & Real Estate, who helped with the pilot project's management and business case. "This high-pressure, low-volume offers us more targeted cleaning, reduces cycle time, and improves efficiencies."

The proprietary technology involves plunger pumps and electric motors with variable frequency drives (VFDs) to enable premium Gröninger spinners to achieve multiple cleaning pressures, which, depending on the size of the pump, range from 40 pounds per square inch (psi) all the way up to 18,000 psi—an ultra-high pressure rarely required by the average tank wash, outside of cleaning isocyanides that must be hydro-blasted off a surface.

Programmable logic controllers (PLCs), which are industrialized digital computers, tie the system together, making it user-friendly and ensuring consistent cleans by operators in multiple locations. Utilizing telemetry from equipment sensors, the PLC automates wash processes and monitors critical inputs, like temperature, pressure, and flow. Readings are collected in the system's "brain," converted into relevant data, and outputted as visual cues on a digital touchscreen that displays any errors or product shortages—and gives operators the best chance of doing their job correctly.

"I've been in industry 27 years and this will completely convert the amount of water and pressure we used in the conventional wash process from 100 gal/min of water with 250-300 psi pressure to this new system of 26-52 gal/min of water 1,700-2,200 psi pressure," said Director Business Development Trevor Tiffany, who has been working on getting the system implemented at Trimac since 2016. "This has the potential to increase our capacity and our ability to wash tanks faster."
For a typical 40-foot trailer, a 90-minute wash time can be done as quickly as 20 to 45 minutes.

Gröninger systems also feature high-volume blowers with steam heat exchangers that enable them to produce ambient or heated air. As with switching a hairdryer from cool to hot, warmer air dries tanks faster. Larger motors also allow operators to control up to six blowers with one motor, with airflow regulated by PLC-controlled valves, ensuring air only is flowing where it's needed. A more thorough wash reduces the need to enter the tank for final cleanup, promoting safety.

This system is better for the environment because it uses less water than traditional cleaning systems. It runs for a third of the time, using significantly less water in the process, and saves energy costs.

Trimac isn't the only tank wash company to see the potential of this system. Approximately more than 300 Gröninger systems are now working across five continents.

"We are looking forward and investing in technology with Trimac's new 5-year strategy," said Gravel. "We can now do more with less, washing more equipment with the same bays and number of people. This project is one of largest investments in technology we have done so far as part of Project Polaris and Trimac's strategic transformation. We are investing in technology and the future of the NTS business."

If the pilot project is successful, the NTS team will begin evaluating two other locations that could benefit from the system.

About Trimac

Trimac Transportation began 75 years ago as a small family trucking company based in Saskatchewan and is now one of the largest transportation service companies in North America. With over 140 branches and a wide range of experience and services—we are uniquely qualified to provide high-quality bulk shipping solutions. Trimac was built on the foundation of service with safety, and we are proud to provide an essential service and ensure our supply chain remains intact.