J.R. Bud McCaig and his legacy
Publié le 14 June 2023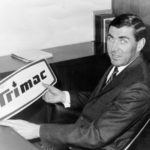 J.R. Bud McCaig holds an unforgettable legacy as a prominent Albertan businessman who left his mark on the Canadian business, philanthropic, and political landscapes. His impact continues to resonate today.

As founder and chairman of Trimac Corporation, one of Canada's largest transportation and logistics companies, he built the business into a successful North American industry leader. Throughout the four decades following 1960, Bud pursued his vision of Trimac becoming a leading North American bulk carrier. At various times, the company was also a major waste hauler, truck fleet lessor, and oil and gas drilling contractor in a conglomerate that made more than three dozen acquisitions, including a score of trucking firms in Canada and the United States. By 2005, 45 years after Bud took the helm from his father Jack McCaig, Trimac was the largest Canadian bulk trucking business and one of the top three in the United States, with operations spanning coast to coast.

Much like his father, Bud was hard working and embodied an entrepreneurial spirit. He believed strongly in the importance of being a leader and setting an example for others. Bud built a successful multi-generational business over his 60-year career at Trimac. His list of accomplishments in business and the community is remarkable. More memorable were his kindness, humility, and his ability to bring out the best in others.

Bud also applied his values to his philanthropy and volunteer activities. He felt that if something was worth doing, it was worth doing well, and he was never deterred by the personal sacrifices required to realize the dreams of the many community enterprises he served.

As a generous philanthropist, Bud donated millions to various charitable causes, especially to organizations that assist healthcare, education, and the arts. A key focus of Bud's contribution to the community was in healthcare. He envisioned Calgary leading the world in the delivery of healthcare services and medical research. He was chair of the board of the Foothills Hospital Foundation from 1991 to 1994 and vice chair of the Foothills Hospital Board of Management.
He was a driving force behind the development and successful completion of Partners in Health, the $50-million capital campaign for healthcare research, equipment, and services. Most notably, he founded the McCaig Institute for Bone and Joint Health, which is a multidisciplinary team of scientists, clinicians and engineers working to improve the prevention, diagnosis and treatment of bone and joint related injuries and diseases.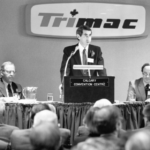 Bud was also a supporter of the Conservative Party of Canada. At the request of Alberta Premier Ralph Klein, Bud was appointed chair of the Calgary Regional Health Authority in 1994 and took on the job of restructuring Calgary's healthcare system. He also helped create the Calgary Health Trust as the fundraising arm of the new regional healthcare system and served as its first chair.

Widely recognized for his achievements in both business and philanthropy, Bud received numerous awards and honours throughout his lifetime. He received the Canadian Master Entrepreneur of the Year award in 1994 from the Canadian Automotive Transport associations, was inducted into the Saskatchewan Oil & Gas Industry Hall of Fame, received the Distinguished Citizen award from Mount Royal College, and the Paul Harris Fellowship award from Rotary International. In 1998 he received an honourary Doctor of Laws degree from the University of Calgary. In the same year, he received the Distinguished Business Leader award from the Haskayne School of Business and the Calgary Chamber of Commerce. In 1999 he became a member of the Order of Canada. In 2002 he received the Queen's Jubilee award. In 2004 he was one of three inaugural inductees in the Calgary Business Hall of Fame. He was also inducted into the Canadian Petroleum Hall of Fame and Alberta Champions. Bud served on the boards of numerous companies including the Royal Bank of Canada, Brookfield Properties Corporation, Cameco Corporation and Nova Corporation.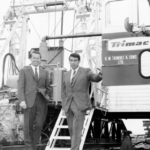 In addition to his interests in business, healthcare, and medicine, Bud also loved sports. He played hockey at a high level as a young man, he was an avid golfer and was part of the ownership group that brought the Flames to Calgary in the 1980's.

Bud passed away on January 11, 2005, at the age of 75 years, leaving behind a legacy of success, generosity, and dedication to the community. While Bud enjoyed great success in all aspects of his life, he never forgot his roots and maintained a spirit of humility, kindness and integrity that endeared him to everyone who had the privilege of knowing him. Bud had a unique ability to unite people around a vision and to see it through to completion, a value that earned him the respect and admiration of all who worked with him and served with him.


About Trimac

Trimac Transportation was founded in 1945 as a small family trucking company based in Saskatchewan and is now one of the largest transportation service companies in North America. With over 140 branches and a wide range of experience and services—we are uniquely qualified to provide high-quality bulk shipping solutions. Trimac was built on the foundation of service with safety, and we are proud to provide an essential service and ensure our supply chain remains intact.