Brokerage services transitions from Bulk Plus Logistics to Zengistics
Publié le 29 March 2022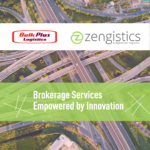 Today Trimac Transportation is excited to announce the consolidation of its freight brokerage services under our dedicated Brokerage umbrella, Zengistics.
Trimac's subsidiary, Bulk Plus Logistics, has rolled its brokerage services into Zengistics to provide one-stop logistics solutions and freight management service for our customers across Canada and the US.

Our commitment to our clients and partners remains our highest priority, which is why all current BPL brokerage staffers are transitioning to Zengistics and will continue to service accounts under the new name.

"This new chapter will allow us to better serve our customers with innovation-driven brokerage and logistics services, and a strengthened network across North America," said VP Trimac Ventures, Deryk Gillespie.

President of Zengistics Solutions, Matt Zimmer, adds "We are executing on our growth strategies and our commitment to expand our geographical presence and service offerings are critical to that success. I am excited about the consolidation of brokerage services into Zengistics. The synergies of these combined forces will bring new service offerings to many segments that are underserved in the transportation space."

BPL will continue to provide high-quality bulk goods and commodities transportation, transload, warehousing, storage solutions, with expertise in both dangerous goods and non-hazardous products servicing dry bulk, chemical, petroleum and energy industries.

About Zengistics
Zengistics is a brokerage company that utilizes a "technology first" approach to transportation and brokerage. Founded in 2014, the approximately 50-person team operates out of Austin, Texas, as a third-party logistics company specializing in connecting shippers with carriers who provide capacity to transport dry van, reefer, and flat deck-based freight.

About Trimac
Trimac Transportation began 77 years ago as a small family trucking company based in Saskatchewan and is now one of the largest transportation service companies in North America. With over 140 branches and a wide range of experience and services—we are uniquely qualified to provide high-quality bulk shipping solutions. Trimac was built on the foundation of service with safety, and we are proud to provide an essential service and ensure our supply chain remains intact.